Funder Bibby Financial Services raises business lending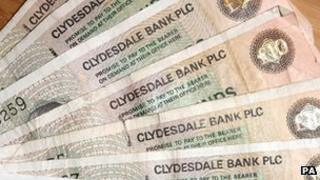 Funding provider Bibby Financial Services (BFS) has reported a 40% increase in lending to smaller Scottish businesses over the past 12 months.
The specialist funder boosted its lending north of the border from £18.3m to £25.6m.
BFS is an invoice finance provider with 17 UK offices, including operations in Glasgow and Edinburgh.
Invoice finance provides businesses with working capital by advancing a percentage of invoice value upfront.
It is designed to provide cash flow and enable companies to grow.
Head of Sales for BFS Scotland, Alan Anderson, said the company was now looking to expand its funding support for small and medium-sized enterprises.
He said: "In the past year, we have significantly boosted the level of funding we provide to businesses, which is a great achievement.
"We have a wealth of ambitious, innovative enterprises in Scotland and the business environments in Glasgow, Edinburgh and Aberdeen are a key focus for us."