Former Edinburgh tax office to be turned into hotel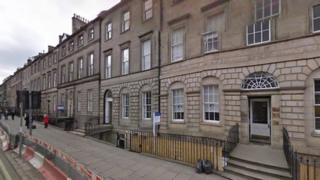 An empty office space in Edinburgh's city centre is to be turned into a new hotel.
The £17m deal will transform the former HMRC office on York Place into a 127-bedroom hotel.
About 40 jobs will be created from the development, 20 of which will be offered to long-term unemployed.
The deal has been agreed by Consensus Capital Property and Premier Inn with redevelopment work expected to last between 12 and 15 months.
Andrew Montague, chief executive of Consensus Capital Property, said the deal demonstrated that the firm could deliver structured funding for large commercial projects, which would also deliver jobs and economic benefits.
He said: "This deal and redevelopment represents a significant milestone for us as a company, and we hope it will be the first of many projects with Premier Inn. We're looking to do more structured funding deals of this stature in the near future."
'Good news'
He added: "The redevelopment of the building is good news for Edinburgh as a whole. Increased footfall in the area will create a stimulus for the city and boost the already strong tourist market."
Edinburgh's strong tourist market was seen to be a key factor in the decision for the investment.
Kevin Murray, Senior Acquisitions Manager for Whitbread Hotels and Restaurants, said: "Once complete, the development will create 40 new jobs in the local area, around half of which will be offered to the long-term unemployed."
He added: "The new site represents another excellent location for Premier Inn, offering high quality and affordable accommodation in the heart of a world-class city. We look forward to opening our doors to customers as soon as possible."