Grangemouth plant owner Ineos cleared to build ethane tank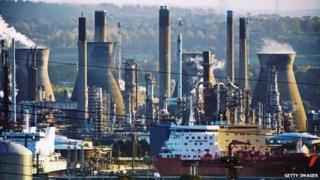 Ineos has announced that it has secured planning permission to construct a £125m ethane storage tank at its Grangemouth petrochemical site.
The company said the project had been approved by Falkirk Council.
The move will allow shale gas to be imported from the US before being stored and processed at the site.
Ineos described the ability to import the gas as "a vital step towards preserving the long-term viability" of the plant.
The planning application includes the construction of a 60,000 cubic metre ethane storage tank, as well as associated infrastructure.
Senior Ineos executive Harry Deans said: "This is great news for those who work at Grangemouth or who are associated with our operations.
"In being granted planning permission to build an ethane storage tank, we have passed another key milestone on our journey to turning our business around.
"We are now able to move forward with our plans that will culminate in the site importing advantaged ethane feedstock from the US."
Earlier this month, Ineos announced it was increasing an order for ships that will bring shale gas from the US to Europe.
It boosted its order with US firm Evergas from four to six ethane vessels.
The company threatened to close the site in October after a dispute with the Unite union.
But it decided to keep the site open after workers accepted changes to pay, pensions and terms and conditions.