Scotland's two busiest airports report passenger growth in April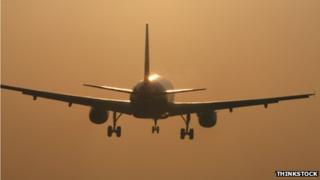 Scotland's two busiest airports, Edinburgh and Glasgow, both reported a 4.9% growth in passenger numbers in April.
Edinburgh Airport saw 842,372 pass through the hub, with the early school holiday helping to boost the total.
Domestic traveller numbers were up 5.5% and international travellers rose by 4.5% compared to the same month last year.
Glasgow Airport saw passenger numbers rise to more than 576,300.
Domestic and international traffic increased by 2.4% and 7.9% respectively.
Edinburgh Airport's chief executive Gordon Dewar said Virgin Atlantic's Little Red service to London Heathrow recorded a strong performance and new easyJet services to Bodrum and Crete proved popular.
New routes
He said: "Easter is always a busy time as it marks the start of the summer season.
"May is going to be an extremely busy and exciting month with four major new route launches taking place over the coming weeks."
Edelweiss will begin a new service to Zurich, United Airlines will fly to Chicago and offer a direct service to Philadelphia.
Qatar Airways will also launch Edinburgh's first direct link to the Middle East.
Glasgow saw many airlines return to offer summer season flights, including Air Malta.
Managing director Amanda McMillan said: "We enjoyed a busy Easter period and celebrated the launch of a number of new routes including easyJet's flights to Kos and the decision by Citywing to reinstate a direct service to the Isle of Man.
"We are continuing to benefit from the city's success in securing large scale events such as BBC Radio 1's Big Weekend, which will take place later this month.
"Glasgow will also host a number of major conferences during May which play an important role in attracting inbound business tourism."