Chartered surveyors: Property market still constrained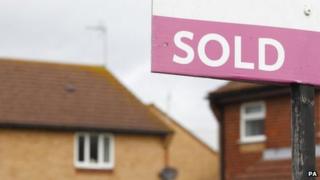 The Scottish housing market continues to be "marred" by weak supply and high demand, according to surveyors.
A survey by the Royal Institution of Chartered Surveyors (Rics) found demand remained steady in April, with a net balance of 23% of respondents reporting new buyer inquiries were up.
But it also suggested the property market was "constrained".
Rics said the "critical issue" for the market remained a lack of second-hand supply.
According to its latest Residential Market Survey, respondents across nine UK regions reported declines last month in new property for sale coming onto the market.
Scotland had a more positive April, with a net balance of 12% more respondents reporting an increase in new instructions.
Rics said there appeared to be a "broadening out of the recovery away from London".
In Scotland, 46% more chartered surveyors predicted that prices over the next three months would rise, rather than fall. In London, 49% more respondents conveyed similar expectations.
'Upward trend'
Rics Scotland director Sarah Speirs said: "House prices in general look set to remain firmly on the upward trend, however, the critical issue for the market remains the lack of second hand supply, despite a slight increase in April.
"It is too early to conclude whether this will undermine the positive trend in transactions volumes, but clearly the absence of properties to buy will ultimately be a factor in influencing the ability of people to move homes."
She added: "That said, despite the disappointing trend in instructions, a net balance of 45% of surveyors expect to see sales levels increase as we head into the summer."