Industry body expels Shetland salmon producer Hjaltland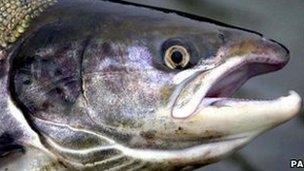 Shetland's largest salmon producer has been expelled from the Scottish Salmon Producers Organisation (SSPO).
The industry body said it had taken the decision to expel Hjaltland Sea Farms because it had been importing smolts from Norway without putting them in quarantine.
The SSPO said the practice was legal but against the voluntary code for the industry.
Hjaltland is owned by Norwegian firm Grieg Seafood.
The company is based in Shetland and operates sites in Shetland and Skye.
It rears more than a third of salmon in Shetland and processes more than 60% of the islands' total production.
In a statement, SSPO said it had expelled Hjaltland over a serious contravention of an industry code of good practice.
SSPO chief executive Scott Landsburgh said it was "with deep disappointment" that the board of SSPO had made the decision to expel a member company.
He said: "However, the importation of smolts from a country with lower health status without undertaking a quarantine period is strictly against the Code of the Good Practice for fish farming.
"The potential consequences of bringing in smolts without quarantine are exceptionally serious for the whole Scottish industry.
"SSPO requires its members to participate fully in the independently audited Code of Good Practice.
"In expressing their grave concerns about the company's plans, other members of SSPO went to extraordinary lengths to help Hjaltland source smolts from Scotland.
"These offers were rejected."
He added: "I am impressed by the enormous spirit of collaboration and support shown between companies to find a solution to this problem.
"I am, therefore, all the more disappointed that every overture was rejected and it was agreed that we should take this step."
Neither Hjaltland nor Grieg Seafood were immediately available for comment.
Related Internet Links
The BBC is not responsible for the content of external sites.