Retail Sales Index: Flat start to year for shops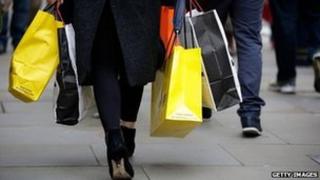 Retail sales in Scotland lagged well behind Great Britain as a whole in the first three months of the year, according to new figures.
Scottish sales remained virtually static, rising by 0.1% in volume terms on the previous quarter, compared with an increase of 0.7% for Great Britain.
The value of sales fell in Scotland by 0.1% on the final quarter of 2013.
On an annual basis, Scottish retail sales volumes grew by 2.4%, compared with 4.2% for Great Britain.
The Retail Sales Index figures were released by Scotland's chief statistician.
Finance Secretary John Swinney said: "Today's Retail Sales Index statistics show that retail sales performance has continued to grow over the past year, highlighting steady signs of economic growth.
"This builds on our most recent GDP figures, which show that the Scottish economy grew by 1.6% during 2013 - the fastest annual growth since 2007."
Last month, retail industry figures showed another fall in sales during March.
The Scottish Retail Consortium (SRC) and accountants KPMG found total sales were down by 2.5%.
Like-for-like sales, which are adjusted to take account of changes in the number and size of outlets, were down by 3.8%.
Responding to the latest Retail Sales Index, SRC director David Lonsdale, said: "The modest upwards trend in retail sales witnessed over the past 12 months mirrors the findings of our own Scottish survey.
"Going forward, retailers will be buoyed by recent news that household income has finally caught up with inflation for the first time in nearly six years.
"The crucial factor is whether family finances continue to improve and also translate into higher levels of confidence and more transactions."