Registers of Scotland: Property prices rise by 3.5%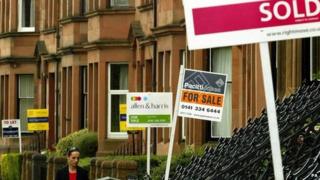 The Scottish property market is showing further signs of growth, according to new figures.
Registers of Scotland said more than 17,800 properties changed hands between January and March - the highest fourth-quarter figure since 2007/08.
Prices were up by an average of 3.5% over the year, with the average property selling for £153,352.
East Dunbartonshire recorded the highest average property price of £219,731, a rise of 4.6%.
Registers of Scotland said there was a mixed picture on house prices across the country, with an increase of 24.9% in Inverclyde and a fall of 14.3% in Midlothian.
The total value of sales across Scotland in the quarter increased by 27.2% over the year, to reach £2.73 billion.
The City of Edinburgh remained the highest value market with total sales of just under £430m for the quarter, while Angus showed the highest percentage rise with the total value of sales increasing by 59.2%.
'Consolidated growth'
All property types showed an increase in average house price in this quarter, the biggest increase being in terraced properties at 2.6%.
The largest sales volumes were seen with semi-detached properties, which increased by 29.5%.
Registers of Scotland's director of commercial services, Kenny Crawford, said: "This is the third successive quarter that volumes have been up over 22% on the previous year, illustrating consolidated growth in the Scottish property market.
"This is a picture that we're seeing across Scotland, with all local authorities showing an increase in the volume of sales for this quarter compared to the previous year."
The Registers of Scotland statistics cover all residential sales, including those that do not involve a mortgage.
Trade body Homes for Scotland welcomed the latest figures.
Chief executive Philip Hogg said: "This is very encouraging, indicating continuing growth in consumer confidence as well as the improving availability of mortgages.
"There can be little doubt about the positive impact the Scottish government's Help to Buy shared equity scheme has had in this regard, accounting for some 900 sales since its launch last September."