Scottish independence: CBI Scotland director to step down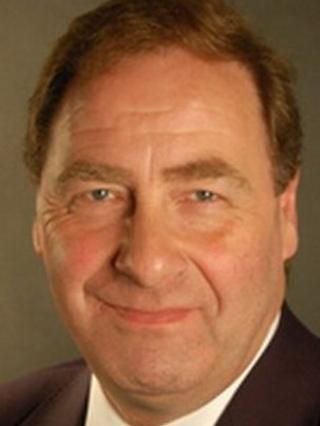 The business lobby group, the CBI, has confirmed that its Scottish director is to step down towards the end of the year.
The announcement that Iain McMillan is to retire comes two days after a bid by the CBI to reverse its position as a registered campaigner against Scottish independence.
The CBI denied any link between the referendum issue and his retirement.
It said a timetable for his departure had been agreed in January.
The CBI registered earlier this month with the Electoral Commission, allowing it to spend up to £150,000 in campaigning for a "No" vote ahead of the referendum in September.
It said at the time it was confident the "vast majority" of its membership agreed with its stance on independence.
However, most of Scotland's universities, several quangos, the Law Society of Scotland and two businesses - Aquamarine Power and Balhousie Care Group - left the organisation as a result of the decision.
Broadcaster STV also left, while the BBC decided to suspend its membership for the period of the election campaign, from 30 May to 18 September.
The CBI later said it had taken legal advice which suggested the application should not have been made.
It has asked the Electoral Commission to "nullify" its registration.
The commission said it was considering whether this would be possible.
A CBI spokesman said: "Mr McMillan signalled his intention to retire early two years ago.
"He agreed a timetable for his departure with our HR team in January and is planning to retire towards the end of 2014."
It is understood that Mr McMillan will step down from his post after the referendum, which will be held on 18 September.
'No surprise'
Balhousie Care Group chairman Tony Banks, who chairs the pro-independence group Business For Scotland, said news of Mr McMillan's departure "comes as no surprise".
He added: "His silence during the last week speaks volumes.
"However, it does beg some questions about the main driver behind the CBI's response to the Scottish government's white paper (on independence).
"That was headed up by the Director General, John Cridland, who was responsible for the composition and media promotion of what was clearly a highly politicised act of No-campaigning.
"Mr. McMillan's retirement as director in Scotland may suggest to some people an element of scapegoating to distract from the central CBI figure, Director General John Cridland.
"His position now looks untenable."
Last week Mr Cridland said the CBI was "politically independent and impartial".
He said at the time: "Although the decision to register with the Electoral Commission was taken in good faith, in order to carry out normal activities during the referendum period, it has inadvertently given the impression that the CBI is a political entity - we are not and never will be."