Macdonald Hotels lifted by £299m refinancing deal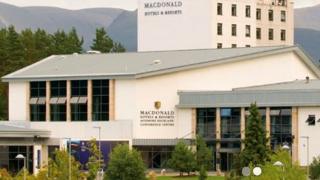 Macdonald Hotels has announced plans to invest heavily in its estate after securing a new £299m loan facility with Lloyds Banking Group.
The group said the refinancing deal would allow for capital expenditure of more than £70m over five years.
Macdonald runs more than 45 hotels across the UK.
The announcement came as the hotel chain reported a strong rise in sales and operating profits for the year to the end of March.
It attributed the results in part to an increase in room occupancy rates.
'Significant milestone'
Group finance director Gordon Fraser said: "The securing of the new five-year banking facilities marks another significant milestone for Macdonald Hotels which provides greater financial stability for the group and enables further revenue-enhancing capital investment in the estate."
Under the terms of the refinancing deal, Macdonald Hotels executives now own 100% of the company's share capital.
In the last financial year, the company saw operating profit rise 7% to £14.9m, on group turnover of £138.6m.
Chief executive David Guile said: "The result was rate-driven by an increase in our average room rate of 4%, combined with cost efficiencies resulting in a higher conversion of our sales to profit."
Capital projects
During the year the group invested a further £8.7m in capital projects, largely on bedroom refurbishments across its hotel portfolio, including the Macdonald Rusacks Hotel in St Andrews.
Mr Guile said the increase in group operating profit last year had mainly been achieved from hotels in which it had recently invested, such as the Macdonald Inchyra Hotel and Spa near Falkirk and the Macdonald Aviemore Resort.
The group plans to invest £5m in the resort in the year ahead.
In the last financial year, Aviemore achieved a pre-tax profit of £600,000, compared with a loss of £200,000 in the previous year.
Macdonald Hotels said the improvement reflected growth in both the leisure and conference sectors.