Scottish Water outlines £3.5bn capital investment plan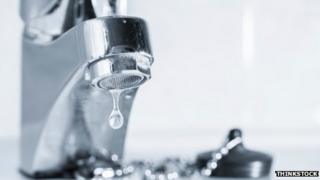 Scottish Water has outlined capital investment plans amounting to £3.5bn over a six-year period.
The proposals include spending more than £340m on improving and protecting drinking water quality and £114.9m on improving its sewer network.
A further £98.9m is forecast to be invested in increasing the reliability of drinking water quality,
The figures were laid out in Scottish Water's business plan for the years 2015 to 2021.
It has estimated that the overall cost of delivering the plan will be £8bn.
The utility said most of the cost would be met by customer charges of £7bn and net new government borrowing of £720m.
Price rises
It has committed to implementing a fixed nominal annual price increase of 1.6% for the years 2015/16, 2016/17 and 2017/18.
In April, charges for this year were increased by 1.6%, just over 1% below the Retail Prices Index (RPI).
In the longer term, Scottish Water plans to implement an overall household charge cap of 1.75% less than the Consumer Prices Index (CPI).
Scottish Water aims to invest heavily in tackling waste water discharges, including £174.4m to complete work on reducing the impact of 61 storm overflow discharges to the River Clyde and its tributaries and £46.5m to reduce discharges to the River Clyde and Water of Leith catchments.
Another £65.8m will be set aside to reduce the impact of discharges from two large waste water treatment works in Glasgow, which serve more than 500,000 customers.
Over the six years, Scottish Water anticipates connecting about 113,000 new household and business properties to the water and drainage systems.
Capital investment
In laying out its strategy, it said: "We expect that our future capital investment requirements will remain around £500 million per annum (in 2012/13 prices) as a result of increasing capital maintenance requirements and ongoing investment to improve services to meet customers' expectations in areas of water supply resilience and prevention of flooding from sewers."
It added: "Implementing these strategic plans will support achievement of our vision to become Scotland's most valued and trusted business.
"Our vision recognises customers' fundamental trust that we will always deliver valuable services that are essential to their lives and businesses."