Scotmid reports slump in operating profits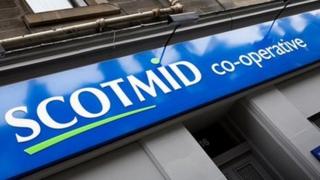 Scottish retailer Scotmid has warned it does not anticipate "a meaningful retail upturn" this year after reporting a slump in operating profits.
The Edinburgh-based co-operative society said operating profit before exceptional items fell by 25% to £4.5m in the year to 25 January.
It attributed a "challenging year" to consumer confidence remaining low in its core markets.
Scotmid's key markets are Scotland, the north of England and Northern Ireland.
The society said like-for-like retail sales were "ahead of the Scottish market", adding that revenues benefited from its merger with Penrith Co-operative last year.
The merger is estimated to have lifted total sales by £3m to £381m.
'Extremely challenging'
According to Scotmid, its Semichem stores outperformed the market with "the benefit of the introduction of tobacco".
But it added that the high street non-food retail sector, particularly in Northern Ireland, had proved "extremely challenging".
In January, Scotmid announced plans to close seven Semichem outlets and all six of its Fragrance House stores, with the loss of about 90 jobs.
In its annual report, Scotmid reported that its non-retail businesses continued to make progress, with its property division showing good growth.
It funerals arm also expanded with the opening of another three funeral homes.
Scotmid chief executive John Brodie said: "At this time last year I predicted a challenging year with a static marketplace and this has been the case.
"Consumer confidence in our core markets remains low and this is borne out by the Scottish Retail Consortium recording a like-for-like sales decline for the 2013/14 year."
He added: "The reported economic recovery appears to be specific to certain locations and sectors and is still not evident in our retail markets (Scotland, Northern Ireland and Northern England).
"There would normally be a time lag before any recovery filters down to consumers and so I do not anticipate a meaningful retail upturn in 2014."