Chartered surveyors warn of construction skills shortages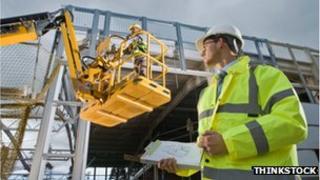 Skills shortages are threatening the pace of recovery of Scotland's construction industry, according to a survey.
The Royal Institution of Chartered Surveyors found members reporting the highest upturn in workloads since 2007 in the first quarter of this year.
It said the private housing sector was driving the improvement.
But it warned skills shortages applied across many trades and in most parts of the country.
The latest Rics Construction Market Survey found 43% of respondents believed there were not enough quantity surveyors available to meet rising demand for skilled workers.
A net balance of 35% also reported a shortage of general construction professionals.
The continuing recovery in the construction sector is expected to lead to job gains, with 41% of respondents forecasting growth in construction employment during the next 12 months.
Rics Scotland director Sarah Speirs said: "What we are seeing as the recovery takes shape is the impact of skills shortages in parts of the country, where companies failed to invest in attracting new talent or in the training of existing employees at the height of the economic downturn.
"Now that the upturn in workloads is broadening out across Scotland, the industry must ensure it has the capability to capitalise on these opportunities."