Payday lending summit staged in Glasgow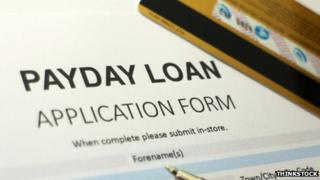 Plans to reduce the number of payday lenders on the high street are being discussed at Scotland's first payday lending summit in Glasgow.
Representatives from local authorities, financial advice services, welfare organisations and credit unions are taking part in the event.
Topics include the impact of payday lending shops and ways of preventing individuals from spiralling into debit.
The summit has been organised by the Scottish government.
It estimates there are between 180 and 200 payday lending premises on Scotland's high streets.
Local Government Minister Derek Mackay said: "Up and down the country, payday loan companies are blighting our town centres and exposing vulnerable people to credit they cannot afford.
"The StepChange Debt Charity's recent report found that 13 million people in the UK face chronic financial insecurity and knowing that a small change in personal circumstances would within weeks push them into debt.
"The Scottish government is already taking steps to tackle this issue through legislation, with the Bankruptcy and Debt Bill 2013 now awaiting Royal assent, and we have used our devolved powers to remove business rates relief from pay lenders with premises in Scottish towns.
"But we are committed to doing more."
He added: "Since we announced our summit in January we have received a great deal of support from local authorities and stakeholders who are keen to share their experiences of debt.
"We want Scotland to lead the way and address this damaging activity so we will be looking at preventative measures and discussing projects which are working successfully in different local authority areas."
'Real misery'
Citizens Advice Scotland (CAS), which is taking part in the summit, said payday loans were "causing real misery" for thousands of people in Scotland.
It estimates that its offices across Scotland see an average of 100 clients a week who have problems with payday loans.
CAS head of policy Susan McPhee said: "Today's summit will look at ways that action can be taken at a Scottish government and local government level to end the proliferation of this problem lending and CAS are pleased to be part of that process.
"We are calling on banks to provide clearer, cheaper, and fairer overdrafts for their clients so they have an alternative to turning to payday lenders when they need access to short-term credit.
"We are also calling on banks to become more flexible by making relatively small, short-term and affordable loans available to all of their clients."