Further fall reported in Scottish shop sales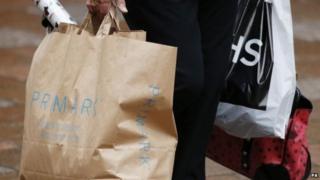 Scotland's shops have reported another fall in sales - although they said part of the explanation was the date of Easter.
Total sales for March, as measured by the Scottish Retail Sales Monitor, were down by 2.5%.
Like-for-like sales, which are adjusted to take account of changes in the number and size of outlets, were down by 3.8%.
Within the overall figures, there has been increased spending on clothing.
The figures are compiled by the Scottish Retail Consortium (SRC) and accountants KPMG.
SRC Director David Lonsdale said: "Although these figures show a decline, they are stronger than expected given the fact that Easter fell so late this year. A particularly strong performance in the fashion and footwear categories shows that shoppers are taking advantage of popular new collections on offer.
"Scottish retailers are working hard to respond to what customers want in this sector, and it is paying dividends.
"Unsurprisingly, compared to last year, categories that perform strongly over the extended Easter break have seen lower sales. Household accessories and furniture are often key purchases over the holiday, and have seen a decline."
Spring weather
The decline in Scottish sales is more marked than a very small fall in the UK as a whole.
David McCorquodale of KPMG commented: "The weather this year has been kinder and more spring-like compared with the icy blasts of last year, which has meant that clothing and fashion retailers have fared better in the first quarter of 2014 compared with last year.
"More favourable economic indicators are also helping to gently loosen some purse strings.
"In the other non-food categories, such as furniture, flooring and household goods, we will have to wait for Easter trading to see if there is a real uptick in these categories but I fear that the Scottish consumer will wish to have harder evidence of house price rises than indicators from the South East of England before big ticket expenditure in Scotland sees a noticeable recovery.
"Total food sales in Scotland for the three months to March fell by 1.2% compared with a decline of 0.6% in the rest of the UK, hinting that the Scottish consumer is being cautious and canny in spending on necessities, and perhaps being more alert to the discounting of the grocers."