Lerwick in Shetland set to benefit from superfast broadband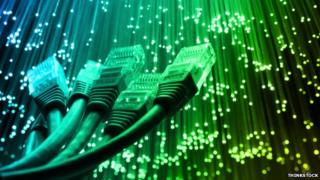 Lerwick in Shetland is set to be the first Scottish island community to benefit from superfast broadband technology.
Homes and businesses in the town will get fibre broadband as part of the £410 million Digital Scotland partnership.
Lerwick will join Keith in Moray as the latest areas to be part of the Digital Highlands and Islands project.
The project aims to have 84% of the region equipped with the technology by 2016.
BT engineers will be able to supply premises in the area with broadband running at up to 80mbps using the new technology.
Additional areas in Nairn, Dingwall and Fort William will also be covered, meaning that about 6,500 premises are to benefit from this latest stage of the project.
In total, more than 750,000 homes and business premises are expected to benefit from the initiative.
National rollout
The Digital Scotland Superfast Broadband initiative consists of two projects - one covering the Highlands and Islands area and the other covering the rest of Scotland.
In the Highlands, the £146m project is led by Highlands and Islands Enterprise (HIE), with additional funding coming from the Scottish government and Broadband Delivery UK (BDUK).
BT, who are rolling out the open access fibre network, is investing £19m in the area.
Stuart Robertson, HIE's Director of Digital Highlands and Islands, said: "The start on cabinets in Lerwick is great news for the local community. The project is working hard to rollout fibre broadband to our other island communities as soon as possible too.
"Major infrastructure work is scheduled to begin in the summer on the UK's biggest sub-sea cabling project.
"It's a mammoth and unprecedented undertaking - with 20 crossings in locations including Islay, Mull, Stornoway and South Uist."
Further locations are being announced quarterly for the three-year project and details can be found online.