Queen's Awards celebrated by 10 Scottish businesses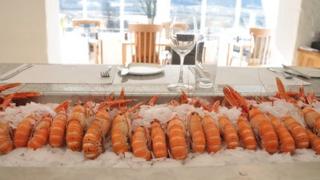 An Argyll seafood processor and an Isle of Bute textile firm are among 10 Scottish businesses to win prestigious Queen's Awards for Enterprise.
Loch Fyne Oysters has been recognised for outstanding overseas sales growth over the past three years.
The same award has been won by Bute Fabrics, which designs and manufactures upholstery fabric.
Nine of the Scottish awards were for international trade, and one for sustainable development.
They are among a total of 162 UK businesses to be recognised for outstanding achievements.
It is the second time Loch Fyne Oysters has won the accolade, having collected the award in 1994.
The company started with two employees in 1978 and now employs more than 130 people locally and supplies seafood to hotel groups, airlines and restaurants. It also runs a delicatessen, oyster bar and restaurant at Cairndow, Argyll.
Last year the company achieved overseas sales of more than £3.8m to Europe, the Middle East, Asia, Africa and the Americas.
Sales director Simon Briggs said: "The award is an acknowledgment of the effort put in by everyone at Loch Fyne Oysters to ensure the best possible product and service are supplied to our customers all over the world, who have shown their appreciation by their custom and loyalty."
Established in 1947, Bute Fabrics Ltd designs and manufactures upholstery fabric.
Its established markets are the US, the Benelux countries and Scandinavia, with new sales agents in other territories including Russia, Italy, Singapore, Hong Kong and Korea.
Bute Fabrics has been supported by Highlands and Islands Enterprise, which provided a £200,000 loan to the business in 2013 to help it develop new products and markets.
It now employs more than 40 people.
'Delighted and honoured'
Bute Fabrics managing director James MacAdam Sprint said: "We're delighted and honoured to have been recognised for the growth in our export sales over the last three years.
"Our focus in developing the strategic markets of the USA, Scandinavia and the Benelux countries has resulted in securing the future for all of the mill's staff."
Another Scottish company to win a Queen's Award this year was Glasgow-based Axis productions, which has created animation for some of the world's leading video games.
Its largest export market is the US, which accounts for 90% of overseas sales.
Other international trade award winners are Livingston firm Paragon Inks (Holdings) Ltd, which manufactures ultra violet printing inks for the label market sector, and Renfrewshire-based Peak Scientific Instruments Ltd, which manufactures gas generating equipment for laboratories and hospitals.
Print distribution firm Edinburgh Arts & Entertainment Ltd has won a Sustainable Development Award for "continuously championing the sustainable business agenda".
The company, which uses an in-house wind turbine and utilises bio-diesel in its vehicle fleet, says it is well on the road to achieving carbon neutrality by 2015.
Selection process
In order to be considered for an award, companies must put their names forward to judging panels involving several UK government departments. The Prime Minister's Advisory Committee then makes a final recommendation to the Queen, who decides the winners.
Winners can use the Queen's Award Emblem in advertising, marketing and on packaging for a period of five years, as a symbol of their quality and success.
The UK government's Scottish Secretary, Alistair Carmichael, said: "I am pleased that these Scottish companies have been recognised for their outstanding efforts at home and across the globe.
"From textiles and oil and gas through to seafood and the video games industry, Scottish companies who have received Queen's Awards today reflect the skills and talent across Scottish business and the great diversity within the Scottish economy."