Ballet and business: A perfect match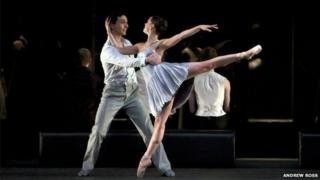 Thousands of people are expected to flock to Scottish Ballet's production of Romeo and Juliet when it starts its run at the King's Theatre in Glasgow on Saturday.
It's a popular choice with the dancers, the orchestra and of course with the public.
That is something the company has to bear in mind when choosing its repertoire.
"It has to be a mix," says Scottish Ballet chief executive Cindy Sughrue, "one that will be attractive to audiences and attract ticket buyers but will also be able to secure international touring opportunities as well as high profile UK performances and events."
Ticket sales over the depths of the downturn have held up, and Ms Sughrue attributes that to a number of things.
"I think we are producing excellent work which is resonating with an audience and attracting an audience, and I also think that people are looking for more shared transformational experiences," she says.
"It's not just Scottish Ballet - people are going out to the theatre to experience things more than before and finding value in the coming together as a community."
Covering costs
A production popular at the box office goes some way to covering the company's costs.
Its turnover is about £7m, and although more than half of its revenue comes from core funding from the Scottish government, the rest has to be raised through ticket and programme sales and from business sponsorship.
That has become more difficult because, says Ms Sughrue, budgets are "stretched across the board". She adds that Scottish Ballet has worked harder to "define and communicate" its core values.
Arts & Business Scotland, a charity charged with building links between business and the cultural industries, has seen quite a change over the years in the nature of business support for the arts, such as music, film, literature, visual arts, festival and theatre.
Chief executive David Watt says that, although the level of investment has remained the same, there has been a big shift in the types of projects that are being invested in.
"The rationale and reasons have also changed," he explains.
"There's a shift away from investing in projects where the outcomes and the benefits for them are corporate entertainment, for example, and much more of a move towards corporate responsibility.
"That's not to say they're not working with the same agencies and companies but they're just supporting different aspects of their work, particularly around things like community engagement".
Grant scheme
Arts & Business runs its own sponsorship grant scheme. If an arts organisation attracts a business to sponsor an aspect of their work, the charity then matches the value of the sponsorship pound for pound.
There has been a sharp rise in small and medium sized businesses involved in the scheme.
Back in 2006, the charity supported 35 projects, with many worth about £25,000. Last year 68 projects were supported with the average sponsorship of between £2,000 and £5,000.
Mr Watt says it was not all about money.
"It's also about a lot of in-kind support," he explains. "We're seeing a lot of need within the cultural sector to boost their business acumen and they're tapping into the local business community to help."
Scottish Ballet is getting cleverer at putting packages together, offering sponsorship deals for small firms up to the biggest - worth four figures up to six figures and from goods in kind to hard cash.
Companies can also sponsor one of the 36 permanent dancers.
For Romeo and Juliet, it was the bank Adam & Company which fell in love with the opportunity to sponsor the production.
Ms Sughrue adds: "For that they get a lot of profile across our UK tour and they're also investing in a production that will tour internationally later in the year - so they're about to get that association with a company like Scottish Ballet producing excellence and demonstrating dedication and professionalism - and those are values that resonate with their business."