Edinburgh Airport boss Gordon Dewar hits out at state aid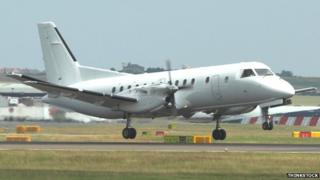 The chief executive of Edinburgh Airport has hit out at state support for other airports, claiming it is "distorting" competition.
Gordon Dewar said every airport in the central belt should be able to "stand on its own two feet".
His comments were directed at both Scottish government-owned Prestwick Airport and Dundee, which he said received support from the city council.
He also claimed some state aid could fall foul of new European rules.
However, Transport Scotland denied Prestwick was receiving state aid because it claimed any investment in the airport would be repaid.
Prestwick losses
Prestwick Airport was racking up losses of more than £2m a year before it was bought by the Scottish government last year for just £1.
Ministers had tried to find a private buyer but when that failed it took ownership to safeguard jobs and services.
The Scottish government is having to subsidise the day-to-day running of the airport and that has infuriated the competition.
Glasgow Airport has previously expressed concern over the government's ownership of Prestwick.
Mr Dewar said: "We have some sympathy because certainly a company going out of business overnight is not good for the economy.
"The fact is there are two strong commercial airports in the central belt of Scotland and it's really important we don't distort competition in the marketplace there."
Mr Dewar returned to Scotland from Bahrain to take on the role of chief executive of Edinburgh after it was sold by BAA to Global Infrastructure Partners (GIP).
The sale was forced after competition concerns.
Dundee support
Mr Dewar has also called for Dundee City Council to justify its support of the airport there.
He said the airport was not surviving on commercial terms and was receiving support from the council.
He added: "What is the benefit to the public sector supporting and nationalising a failing business?
"There are plenty of opportunities to travel from Dundee and then to fly from Aberdeen or from Edinburgh or indeed from Glasgow."
Dundee recently announced a twice daily flight to Stansted.
A spokesman for Dundee City Council said: "We have been working closely with our partners in Transport Scotland, Highland and Islands Airports and Loganair to help ensure this continuity of service between Dundee and London.
"We are keen to find a longer term service to connect Dundee and London, and the council is in the process of attracting an operator under a Public Service Obligation."
He added: "Air links to Dundee have played an important role in the long-term regeneration of Dundee and we want to see even more people using services from Dundee Airport."
European scrutiny
State aid of airports has come under scrutiny from the European Commission.
Earlier this year the Commission adopted new guidelines on how Member States could support airports and airlines in line with EU state aid rules.
It means that operating aid for airports with more than 700,000 passengers per year will have to be curbed.
In 2012 Prestwick Airport had more than one million passengers.
However, Transport Scotland denied the airport was receiving state aid because it claimed any investment made would be repaid.
A Transport Scotland spokesman said: "The Scottish government's ownership of Prestwick Airport is being undertaken on a commercial basis.
'No state aid'
"Given that there is no state aid, the EU's new guidelines do not apply. There will be no ongoing subsidy of the airport's operations and we expect investment to generate a long term return for taxpayers' money."
He added: "We believe that there is a place for Glasgow Prestwick in the evolving and increasingly competitive Scottish aviation market and as an airport serving Ayrshire and other parts of the west of Scotland.
"This investment will help ensure the continuation of robust competition between airports in Scotland and will not be at the expense of it."
You can hear an interview with Gordon Dewar on the subject by listening to BBC Radio Scotland's Business Scotland programme at 06:05 on Saturday and again at 10:05 on Sunday. The programme will also be available by free download.