ONS data: Scottish unemployment rises by 3,000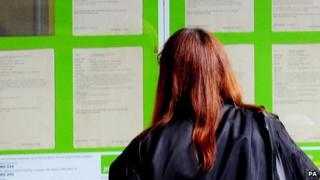 Unemployment in Scotland rose by 3,000 to a total of 179,000 between December 2013 and February 2014, according to official figures.
Data from the Office for National Statistics (ONS) also showed employment increased by 16,000 over the same period.
The number of people in jobs in Scotland now stands at 2,575,000.
The Scottish unemployment rate is 6.5%, which is below the average of 6.9% for the whole of the UK.
Over the three-month period, the number of people out of work in the UK fell by 77,000 to a five-year low of 2.24 million.
Meanwhile, the number of people claiming Job Seeker's Allowance (JSA) in Scotland fell in March by 2,400 to stand at 104,600 - 32,100 fewer than the same period last year.
'Record high'
Scotland's First Minister Alex Salmond said employment levels were at a "record high".
He said: "Today's historic jobs figures show the Scottish government's policy of investing in infrastructure to boost the economy is making significant progress with employment levels at a record high.
"To put it in perspective, there are 285,000 more people in employment today than there were when the Scottish Parliament was established in 1999."
He added: "Scotland is outperforming the UK across employment, unemployment and inactivity rates which goes to show even with the limited powers over the economy at our disposal we are improving our country's economic health."‬
'Very encouraging'
The UK government's Scottish Secretary, Alistair Carmichael, said: "It is encouraging to see 16,000 more Scots move into work and the number claiming Job Seeker's Allowance fall for the 17th straight month.
"There are now 68,000 more people in work and around 32,000 fewer people claiming jobseekers allowance than one year ago.
"It is also very encouraging to see the number of women in work continuing to rise to a near record high."‬
He added: ‪"With business confidence increasing, inflation falling to a four-and-a-half year low and seven consecutive months of positive Scottish economic growth, Scotland is doing well as part of the UK."
The Scottish Chambers of Commerce said the latest figures were a reminder that "a level of fragility" remained in the employment market.
Chief executive Liz Cameron added: "A focused business-led effort, supported by policy makers, is required to address the skills shortages that our businesses are reporting.
"This will enable people in Scotland to develop the skills required to succeed in the labour market."