CalMac considers river bus route on Clyde into Glasgow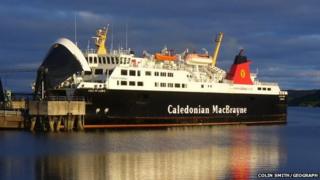 CalMac, the Hebridean ferry operator, is considering a Clyde river bus sailing into the centre of Glasgow.
Its chief executive, Martin Dorchester, told BBC Scotland that the government-owned company is to consider that option later this year.
It will have spare capacity after summer, 2014. Three new ferries will be added to the Caledonian MacBrayne fleet.
Mr Dorchester stressed that any service would have to pay its own way.
"There are many opportunities around our network," he said. "The fact that the contract CalMac runs is called 'Clyde and Hebridean ferry services' gives a clue about where we want to develop things, so there's an opportunity there."
He said a river bus service "could come right into the city. Our view is to maximise the Clyde as much as we can.
"We wouldn't see that as a subsidised government service. It would have to pay for itself."
Trial services
Cal Mac has recently put two routes on three-year trials, between Ardrossan in Ayrshire and Campbeltown in Kintyre, and between Mallaig in Lochaber and Lochboisdale on South Uist.
In an interview for BBC Radio Scotland's Business Scotland programme, Mr Dorchester also talked about the special circumstances of being state-owned, also of being a public service as well as a business, and of preparing a competitive bid for a new licence.
That process starts this year, and the new licence is expected to begin in 2016. CalMac lost its bid to continue running the mainland ferry link for Orkney and Shetland, losing 30% of its business.
The chief executive has also talked about ways in which Caledonian-MacBrayne is modernising, with its new hybrid electric-diesel ferries; looking to smart ticketing with rail and bus services; working with other tourism operators, offering more day trip and flexible tickets; making wi-fi available to passengers; and providing more locally-produced food and drink on board ferries.
You can hear an edited version of the interview on Business Scotland, at 10:00 on Sunday 13 April, on BBC Radio Scotland and by free download.