Funding boost for life sciences firm NuCana BioMed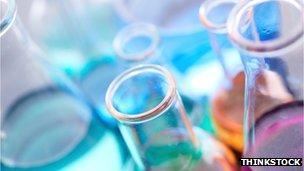 An Edinburgh-based biopharmaceutical company has secured financing of $57m (£34m) to fund development of its portfolio of anti-cancer medicines.
NuCana BioMed said the deal was led by California-based venture capital firm Sofinnnova Ventures.
Investors included major shareholder Sofinnova Partners, Morningside Ventures, Alida Capital International and the Scottish Investment Bank.
The money was raised in a second funding round.
In 2011 NuCana, secured £6.74m through an initial round of venture capital financing.
The company uses technology which it says creates compounds that bypass key resistance mechanisms associated with anti-cancer drugs.
The latest funds will be used to expand the clinical programme for NuCana's lead product, Acelarin, which will be developed initially for patients with pancreatic, biliary, lung and ovarian cancers.
The company plans to bring other products forward later this year.
NuCana chief executive and founder Hugh Griffith said the latest round was "a major endorsement" of NuCana and its technology.
He added: "With the strong support from both new and current investors, and our potential breakthrough therapies, we aim to dramatically improve the treatment options for many patients with cancer."
Related Internet Links
The BBC is not responsible for the content of external sites.