Cairn Energy announces boardroom shake-up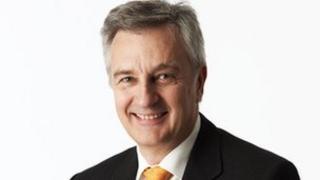 Another two key figures who built Cairn Energy into a multi-billion dollar company are leaving the Edinburgh oil firm.
Mike Watts is retiring as deputy chief executive, having joined in 1995.
Managing director and chief finance officer Jann Brown is also standing down from the board next month.
The changes follow the announcement last month that Sir Bill Gammell, who founded Cairn, was stepping down as chairman.
As exploration director, Dr Watts was credited with the drilling programme that ensured huge success for Cairn in India.
Ms Brown is joining the board of Wood Group in Aberdeen as a non-executive director, after 16 years with Cairn.
The departures are part of what Cairn calls "long-term succession planning".
Sir Bill will also stand down at Cairn's annual general meeting on 15 May.
He is being replaced by non-executive director Ian Tyler, former chief executive of Balfour Beatty.
James Smith has been appointed as Cairn's new finance director.
He joined Cairn recently from Rothschild, where he was a director in its Energy and Power team in London.
Mr Smith has been in investment banking for 14 years, with Cairn Energy among his clients for advice on acquisitions.
For up to a year, Dr Watts and Ms Brown, both aged 58, are to continue their involvement in handling a complex tax case in India, which means Cairn's $1bn investment in its former subsidiary there is frozen.
The Cairn board is to shrink to only two executive directors - Mr Smith and chief executive Simon Thomson.
Mr Thomson commented: "The changes announced today offer the best way of organising our business for the future - both in delivering our ongoing balanced growth strategy and in dealing with the situation in India."
Following the announcement, the share price in Cairn Energy ended the day down 1.5%.