Law Society: Scottish firms see profits 'flatline'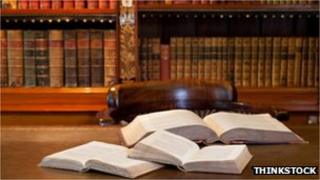 Scottish law firms' profits flatlined overall last year with very small firms struggling more than bigger companies, a survey has suggested.
The Law Society of Scotland's annual financial benchmarking survey found larger firms, with 10 or more partners, improved their profitability last year.
Firms with between five and nine partners also saw a rise in incomes.
However smaller businesses with fewer than five partners suffered a decline in 2013.
The survey, which was based on responses from 214 legal firms across Scotland, suggested profits have yet to reach pre-recession levels.
The overall median profit per equity partner for all firm types in 2013 was £64,000 - well below the 2008 profit level of £104,000.
Those companies with more than 10 partners saw profits rise, with a median income of £197,000 per equity partner, up from £163,000 the previous year.
Firms with five partners also saw a rise - from £76,000 to a median income of £98,900 in 2013.
But firms with between two and four partners saw income fall from £67,000 to £64,000.
Sole practitioners fared worst of all, with a median profit of just £47,000 compared with £53,000 the previous year
'Positive news'
Lorna Jack, chief executive of the Law Society of Scotland, said: "Our latest benchmarking survey has brought positive news, with some firms seeing growth as we begin to emerge from the economic downturn.
"However, it's clear that the effects of the recession are not over and the report confirms the difficulties that sole practitioners in particular have in sustaining a viable business as the market continues to change."
Last month, a study by business advisers BDO suggested Scotland has too many lawyers and too many law firms chasing declining fee income.
It found subdued profits and a fall in fees for law firms between 2008 and 2013.
The report also showed that company revenue was being diluted by increasing staff numbers in law firms.