FirstGroup says earnings hit by severe weather in US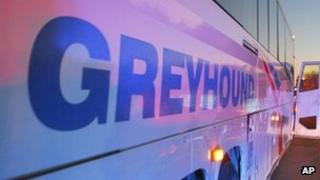 Transport giant FirstGroup has said it will deliver earnings growth this year, despite taking a hit from severe weather in the United States.
The group estimated "unprecedented weather conditions" in North America cost it £14m in earnings in the fourth quarter to the end of March.
However, it reported good growth in UK bus passenger numbers.
FirstGroup also said it expected like-for-like passenger revenue growth of 5.9% in its UK Rail arm.
In a trading update for the year to the end of March, the Aberdeen-based group reported that bad weather in the last quarter hurt its First Student and Greyhound bus services in the US.
It expects revenue from First Student to fall by 1.8% for the year, as a result of "widespread snow storms, coupled with record low temperatures", which led to an unprecedented number of school closures.
Revenue from its Greyhound trans-American coach services is also expected to fall as a result of "significant disruption to the network".
However, its US contract bus business First Transit is forecast to see revenue growth of more than 7%, with margins in line with expectations.
In the UK, its bus division is expected to show 1.8% growth for the year, while UK Rail continued to perform well despite problems caused by bad weather and flooding, according to the company.
'Satisfactory progress'
FirstGroup chief executive Tim O'Toole said: "We have made satisfactory progress on our key priorities in the year, with good performances in four of our divisions partially offset by slower progress in First Student, where we have a detailed programme underway to reposition the contract portfolio, increase returns and drive further cost efficiencies.
"We will deliver earnings growth this year, albeit suppressed by the historically severe weather, particularly in North America.
"We are broadly on track to achieve our medium term targets and while we are encouraged by the progress made so far, there remains a significant amount of work ahead."
Break-up plan
In December, FirstGroup rejected a break-up plan from one of its shareholders to sell its US assets.
Hedge fund Sandell Asset Management wanted FirstGroup to sell its Greyhound service and school bus business to help pay down debt.
But FirstGroup said the plan was "not compelling" and had "flaws and inaccuracies".
FirstGroup saw its shares tumble last year after it raised £615m and cancelled its dividend.
The company is putting £1.6bn into a four-year investment programme and tackling debts of nearly £2bn.