Dating firm Cupid looks to longer term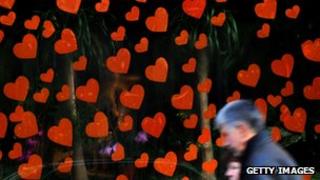 Online dating firm Cupid says it will now concentrate on improving customer experience and longer term revenues.
The company reported a £7.4m loss for 2013 compared with a profit of £9.2m in the previous year.
During the year, Cupid sold off some of its businesses including benaughty.com and flirty.com.
The firm replaced its chief executive during the period and its priorities for 2014 were "to complete the recovery phase for the dating business".
Changes at the Edinburgh-based group followed criticism that Cupid created user profiles on its websites to entice new customers to sign up.
An independent investigation did not find any evidence of this, but the report by auditors KPMG said Cupid's staff were not clearly identified, which led to confusion for customers.
'Customer experience'
Chairman George Elliott described events as a "deeply frustrating experience, but the business has gained strength from it".
He added: "We have also transformed the nature of Cupid, creating a platform for the future - a focused platform which will drive sustainable growth and which is devoid of the short-termism driven by managing casual traffic and its monetisation.
"We have embedded a new product approach with an emphasis on improving both the overall customer experience and the long-term quality of our revenue streams."
A new chief executive , Phil Gripton, replaced Bill Dobbie on 1 December last year.
Mr Gripton had been managing director of the company's dating services division for the past year and had overseen the sell-off of the company's "casual" sites.
Mr Dobbie remains on the board as a non-executive director.
Group revenues including the company's discontinued operations fell 31% to £56.1m compared with £90m in 2012.
However there was a gain of of £23.4m on the sale of Cupid's casual assets as well as the disposal of a German-based business.
Mr Gripton said: "The 2013 financial performance of the business reflects the impact of the disposal, the challenging year in general from a macro perspective and the consequences of restructuring the mainstream core dating assets."
Following the recent rationalisation Cupid still has 225 employees across the globe with a presence in the UK, USA, France and Ukraine.