Johnston Press reports annual pre-tax loss of £287m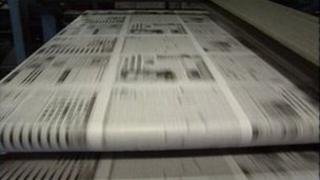 Newspaper and online publisher Johnston Press has reported a pre-tax loss of nearly £287m last year.
The group attributed the loss to exceptional items such as restructuring costs and a writedown in asset values.
Total revenue fell by 15.6% to £302.8m, dragged down by a 10% fall in overall advertising sales to £181.7m.
However, Johnston also reported the first positive year-on-year growth in underlying operating profit for seven years.
It grew by 2.5% last year to £54.3m.
The group also said the fall in advertising revenues slowed in the second half of the year as market conditions improved.
Johnston has laid off about 1,600 staff in the past two years as part of an effort to reduce its cost base.
In December the company, whose titles include The Scotsman and the Yorkshire Post, said it planned to refinance during 2014.
Last year it succeeded in cutting its debt burden by £19.3m, to £302m.
Its strategy to "transform" the group includes focusing on digital growth.
Over 2013 its print and digital audience grew from 18.1 million users to 21.2 million users, while digital revenues grew by 19.4% year-on-year to £24.6m.
'Important milestone'
Chief executive Ashley Highfield said: "2013 was an important year in our turnaround at Johnston Press as it was the year we posted our first underlying operating profit growth for seven years.
"This is an important milestone and indicates that our strategy for the business is the right one. We posted an underlying operating profit of £54.3m, representing year-on-year growth of 2.5%.
"2013 started with very difficult trading conditions but as the year progressed, conditions improved and we ended the year with a sense of optimism across many business sectors.
"The improving conditions were reflected in our trading performance which improved from quarter to quarter."
He added: "In response to the macro-economic environment we have continued to transform Johnston Press.
"We have implemented a number of strategic initiatives that will continue to reduce our cost base, to stem the decline in top line revenue and accelerate our digital growth."