Beer maker Arran plans 'first' Scottish sake brewery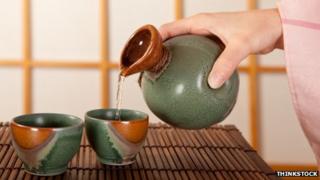 A beer maker has announced plans to create what it claims will be Scotland's first sake brewery.
Arran Brewery has bought a former primary school in Dreghorn, North Ayrshire, to house the new facility.
If planning consent is given, Arran hopes to start production by next winter. Most of the sake will be exported to Japan.
The new development would include a brewing and distilling research and teaching centre.
Arran had been making sake on a very small scale before deciding to set up a brewery.
Brewery equipment, including rice boilers, is being imported from Japan for the project.
Japan 'connection'
Managing director Gerald Michaluk said he was confident there was a market for Scottish-made sake in Japan.
He said: "Just as the whisky shops here are obliged to stock Japanese whiskies, we are confident that the Japanese sake houses will stock the Scottish sake, given the prevalence of Scotch whisky in the country."
Mr Michaluk added: "It may not at first appear there is a connection between Dreghorn, near Kilmarnock, and Japan but there is.
"In Japan you will find a small piece of Scotland in the form of a church which once graced Dreghorn but which was dismantled and rebuilt in Tokyo."
The project will be funded by a crowdfunding initiative which Arran is currently running.
Arran hopes to raise £4m to fund a range of expansion plans through the initiative, which is due to draw to a close on 4 April.
The plans include a brewery, hotel and visitor centre at the former Drummond Hotel in St Fillans, Perthshire.