Clydesdale and Yorkshire Banks to close 28 branches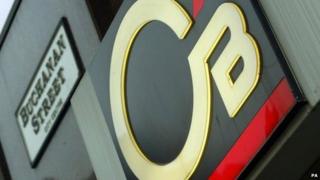 Clydesdale and Yorkshire Banks are to close 28 "unsustainable" branches and invest £45m in customer improvements under plans to reshape their retail banking operations.
Clydesdale and Yorkshire, part of National Australia Bank (NAB), expect to save £5m by the branch closures.
The banking group said that frontline jobs would be safeguarded.
New posts are being created at their busiest branches, while support will be given to displaced branch managers.
The banks said their network of 320 branches would be reshaped over the next nine months as part of a £25m branch investment programme.
Six "flagship" branches will be developed, including the Glasgow head office of the Clydesdale Bank and the newly-refurbished London Piccadilly branch, along with four new large branches in Aberdeen, Sheffield, Edinburgh and Leeds.
'Positive change'
More than £20m will also be spent on improved mobile and internet banking services as part of the programme to "replace, renew, relocate and reinvest" across the retail branch network.
The Clydesdale branches which will close before the end of the year include: Aberdeen Bridge of Don, Aberdeen Woodside, Auchterarder, Blairgowrie, Bothwell, Bridge of Allan, Bucksburn, Cupar, Edinburgh West End, Glasgow Govanhill, Haddington, Kinross, Kirkcaldy and Whitburn.
David Thorburn, chief executive of Clydesdale Bank and Yorkshire Bank, said: "There's a lot of positive change being driven forward for our customers and there needs to be more as we build a better bank.
"Here we are making a significant investment to meet the changing needs of customers now and in the future.
"But to deliver what are fundamentally necessary changes, we have to face difficult decisions. No branch closure is welcomed by customers or staff, I understand that, which is why we are working to minimise the effects these changes have on them.
"Our resources must now be focused on where they can deliver the best results for customers, moving with them as their demands change."
'Less choice'
He added: "A branch network remains at the core of what we do, and we are investing in it, but we must balance that against the investment we need to make in the services customers now expect and are using more - online and mobile banking services that give customers control of their finances when and where they want it most."
Rob Macgregor, Unite union national officer, said: "The bank is cutting costs and eroding community banking which we believe leaves customers with less choice.
"Customers are being short-changed by high street banks replacing counter staff with machines, yet, according to our own poll, nearly three-quarters of people want the human touch, not just a machine in their local bank branch.
"Unite will oppose compulsory redundancies and we expect the company to do everything possible to make redeployment an option and allow workers to move to neighbouring branches wherever possible."
Last month, Clydesdale Bank's Australian owner said it was setting aside further funds to meet the costs of rising customer complaints and regulatory challenges in the UK.
Its UK operation - the Clydesdale Bank, including the Yorkshire Bank brand - saw improved cash earnings during the fourth quarter of 2013.
This was helped by lower costs, having shed staff.
In April 2012, it announced plans to reduce staffing from 8,300 to 6,900, while shrinking its commercial lending activities.