Beauty salons 'boosted by increase in male customers'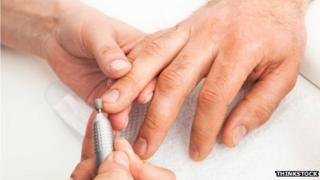 Many Scottish hair and beauty salons are planning to take on more staff following a rise in the popularity of male grooming, according to a survey.
Salon Services found more than half (53%) of salons reported an increase in male customers in the last year, with men now making up a fifth of clients.
More than three-quarters said they felt more optimistic about their business prospects than this time last year.
Nearly half of respondents said they planned to hire more staff in 2014.
Salon Services, a professional hair and beauty product distributor, said more men were paying for treatments such as facials, fake tans and manicures.
According to the survey, Scottish men who ordered facials had treatments every 3.8 weeks - more often than anywhere else in the UK.
'Tan fans'
Males who were "tan fans" were topping up an average of 18 times a year.
However, a haircut and colouring remained the most popular treatments for men north of the border.
The report estimated male customers were now spending, on average, £1,038 every year on salon treatments in Scotland, only £60 less than female clients.
Tanning was a favourite treatment for Scottish women who topped up, on average, every 2.4 weeks.
'Challenging years'
Edinburgh salon owner Philip Politi, who helped launch the report, said: "Like all small businesses in Scotland, the last few years have been challenging, but we're starting to see customer confidence returning to the High Street.
"Since the start of the year, our regular customers are treating themselves more frequently, and we're attracting new ones."
Alan Revitt, from Salon Services, added: "We've seen a steady growth of men coming into salons in Scotland for beauty, as well as hair, treatments in recent years so the salons that have branched into this market will be in a particularly strong position to grow in 2014."
The Salon Services survey gathered responses from more than 2,200 UK salon professionals, more than 190 of which were based in Scotland.