Oil tax break 'could create 700 jobs' in Maersk and BG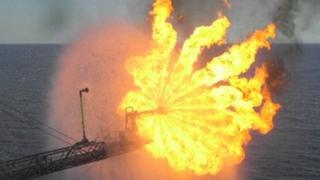 A tax break for two oil and gas fields in the North Sea is expected to lead to the creation of more than 700 jobs.
The Culzean and Jackdaw fields are the first to benefit from a new allowance announced in this week's Budget.
It is aimed at reserves with the expensive challenge of extraction at very high pressure and temperature.
Maersk Oil and BG Group are the lead operators on the new fields, and would receive a fifth of the investment cost as tax relief, if the schemes go ahead.
The two fields would cost about £6bn to develop, creating more than 700 jobs, and supporting as many as 8,000 more in the supply chain - roughly half of them in Scotland.
The Culzean and Jackdaw fields were discovered in the past 10 years in the central North Sea, off Aberdeen.
'Security of supply'
Andy Samuel, managing director of BG Group's European upstream business, said: "BG Group welcomes the new proposals which improve the prospect of the Jackdaw gas discovery being developed.
"If approved, Jackdaw would make a significant contribution to UK gas security of supply, support thousands of UK-based engineering and construction jobs and help develop highly technical skills for many UK companies."
Maersk Oil CEO Jakob Thomasen said: "The proposed HPHT [High Pressure High Temperature ] allowance provides a welcome boost to new and challenging projects and can contribute to energy security, jobs and the economy."
In his Budget speech on Wednesday, Chancellor George Osborne said the UK government's continued support for the oil and gas industry had led to billions of pounds of investment, and tens of thousands of jobs across the country.
But new tax rules affecting North Sea operators were criticised by the International Association of Drilling Contractors, which claimed Budget changes over drilling rigs and accommodation vessels would cost firms an estimated £145m in the coming year.
A Scottish government spokesman said: "To realise the North Sea's full potential then we need long term predictability and stability for the oil and gas industry, something that the UK government has failed to achieve over the years.
"Sir Ian Wood's recent report into the future of the North Sea has confirmed that fiscal instability has been a significant factor in basin underperformance."