Number of shop closures falls in Scotland, figures suggest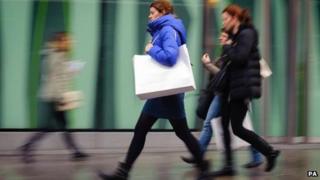 The rate of store closures across Scotland's high streets slowed last year, indicating a return in retail confidence, according to research.
Figures contained in a PwC report showed a 14% drop in outlets closing.
The data suggests that Scotland's retail recovery is ahead of other areas in the UK.
However, experts warned that an increase in online shopping meant that high street outlets would continue to find business tough.
'Positive outlook'
The figures were contained in PwC research compiled by the Local Data Company (LDC).
A total of 302 shops across Scotland shut in 2013 compared with 353 the previous year, however 271 new stores opened, meaning the overall net result last year was a decline of 31 stores in Scotland.
The report said this painted a "more positive picture", with the net reduction in the number of stores falling by nearly 60% from the 2012 level of 77.
According to the data, Scotland's retail recovery was ahead of other areas, including the South East of England and the East Midlands, which experienced net losses of 65 and 70 stores respectively in 2013.
Caroline Roxburgh, head of private business at PwC in Scotland, said: "After a tough few years for the retail sector, it's encouraging to see the pace of store closures finally slow down.
"Coupled with a 60% decline in net closures year-on-year, this hopefully signals a return in retail confidence. The challenge will be for the retail sector to sustain this performance throughout 2014."
She continued: "It's perhaps important to remember that many of these closures have been the result of major UK-wide insolvencies such as Jessops, HMV and Blockbuster."
Changing pattern
Across the UK, closures by multiple retailers - shops with more than five outlets - slowed from 20 stores a day in 2012 to 16 last year.
In Scotland, photographic shops, clothing stores, banks, computer games stores, travel agents and shoe shops were among the hardest hit last year, the figures showed.
Convenience stores, charity shops, three-star hotels, betting shops, cheque cashing and sports good shops bucked the trend by showing growth during the year.
But Ms Roxburgh warned that an increase in online shopping meant the pattern of overall store closures was expected to continue.
"Casualties have been in those areas where we have seen a rapid shift online - travel, fashion, digital photography and DVDs, and banks - and it is likely these trends will continue," she said.