Improving economy set to 'surpass pre-recession levels'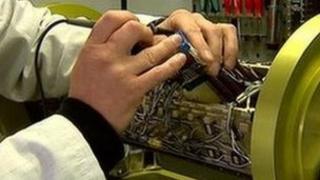 Economic activity in Scotland could be set to surpass pre-recession levels by July, according to a survey.
A report from BDO accountants said confidence had improved across all sectors of the economy with firms optimistic about the rest of the year.
The figures also suggested that worker's wages could be set to increase on the back of the positive figures.
However, experts have warned that a continuing skill shortage could slow the recovery.
The BDO's Output Index in February was measured at 102.3, it's highest level since April 2010. The Output Index is an indicator of growth with figures predicting continually high business performance for the coming months.
Businesses also benefited with a drop in inflation, with the report's index inflation figure dropping 0.8 to a February figure of 97.1.
'Strong job creation'
The improving confidence in the economy could also point to an increase in worker's wages with BDO's Employment Index, which reflects businesses' hiring expectations over the next three months, rising to 102.7 in February.
Martin Gill, partner and head of BDO LLP in Scotland, said: "On its current trajectory, we expect economic output to surpass the level last reached before the onset of the financial crisis by July this year, which will be a great relief to the Chancellor as we near the Budget.
"What's more, the recovery has well and truly taken hold across all sectors, with manufacturing in particular driving strong job creation.
"However, as the remaining spare capacity in the economy is spent, the spectre of a skills shortage is likely to rear its head again, which could become a new drag on growth."‬