Scottish retailers: Shop footfall continues to fall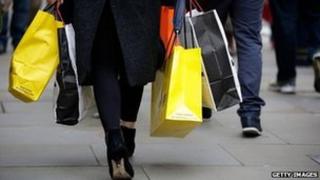 Scottish retailers have expressed disappointment at new figures showing another fall in the number of people hitting the shops.
Data compiled by the Scottish Retail Consortium (SRC) and Springboard showed a 4.1% year-on-year drop in shopper numbers in February.
The latest figures followed a 1.8% fall in the previous month.
Scotland lagged behind the UK as a whole, which recorded a 2.9% drop in footfall.
SRC said bad weather particularly affected the high streets, which saw footfall down by 7.7% in February.
Shopping centres, with sheltered environments, recorded a more modest decline in footfall - 2.4% - while out-of-town locations recorded an increase of 2.6%.
'Disappointing'
SRC director David Lonsdale said: "February saw a disappointing acceleration of the recent downwards trend in shopper numbers.
"Scottish retailers will be examining this 4.1% drop in footfall carefully, and considering what steps could be taken to attract more people to town centres.
"We saw bumper retail sales in Scotland in January despite the slight fall in the numbers of shoppers that month, so until the February Scottish retail sales are published we won't know if this decrease in footfall has had a large impact on actual sales."
He added: "Scottish retailers are increasingly expert at harnessing the internet and multi-channel innovations to get through to consumers who might not have time to travel to the shops.
"However to really help the performance of Scottish high streets in particular, comprehensive reform of the near £3bn business rates system is required in order to support retailers to invest further in improvements and local jobs."
Bonus Scheme
The Scottish government said it was "delivering the most competitive business tax environment anywhere in the UK" through its business rates policies.
A spokesman added: "More than 92,000 premises, including many small retailers, benefited from our Small Business Bonus Scheme in the last year - and the scheme is now being expanded to benefit thousands more smaller firms.
"The Scottish government is committed to making Scotland the best place to do business and is currently reviewing the entire rating system and looks forward to working constructively with the Scottish Retail Consortium."