Scottish independence: Rosyth owner Babcock raises "Yes" vote concerns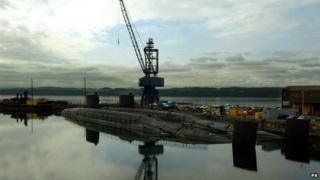 The owners of Rosyth Dockyard have said Scottish independence could lead to additional "risk and uncertainty" for the company.
Babcock managers told Rosyth workers that a "Yes" vote could mean the end of its Royal Navy contracts.
A Scottish government spokesman said UK defence contracts could still be carried out in an independent Scotland.
And he said a "No" vote would not necessarily safeguard Rosyth's future.
On Thursday, Babcock officials briefed the joint trades unions at Rosyth on their view of what could happen if the Scottish public vote for independence in the referendum, which will be held on 18 September.
A Babcock spokesperson said: "As a company with a large footprint in Scotland, the possible changes to Scotland's financial and regulatory environment following a vote from independence create additional risk and uncertainty for our business."
"That is why - as part of a long tradition of such engagement - Babcock has begun to discuss these risks and uncertainties with our local workforces."
Details of Babcock's staff briefings were made public by the Rosyth Dockyard Industrial Joint Council - which includes the Unite, GMB and Ucatt unions.
The council said the briefings included concerns that it was "unlikely" the dock would be able to carry out Royal Navy work.
According to the unions, Babcock had noted the Scottish government's plan to remodel Rosyth and Faslane after independence, but said it remained unclear whether workloads would be smaller or greater than now.
Carrier contract
Babcock management were also said to have stated in the staff briefings that it was "not clear" if independence would have any impact on the completion of the Queen Elizabeth Class aircraft carrier contract.
But there was a "possibility that the UK government could look to move the two carriers to a facility within the rest of the UK, such as Portsmouth, at the earliest opportunity," it added.
It was also "unlikely" Rosyth would be eligible to receive allocated Royal Navy complex warship refits as Babcock said existing rules restricted these to UK yards.
The joint council said in a statement: "The company view clearly raises the same concerns that the Rosyth Trade Unions have with regards to what a "Yes" vote would mean to our members the Rosyth workforce."
But a spokesman for Scottish government veterans minister Keith Brown said UK military contacts could still be carried out in an independent Scotland.
He added: "Scottish companies will be able to bid for Ministry of Defence contracts that are put out to competitive tender so UK military orders could, and should, still come to Scotland.
"We pledge to support shipbuilding and defence jobs in Scotland regardless of the outcome of the referendum - it is a shame that 'No' campaign politicians seem unable to do likewise.
"Let's not forget that the number of MoD civilian workers in Scotland has been cut by almost 60% since 2000, meaning that a 'No' vote brings huge uncertainty for the industry.
"Scotland's indigenous and global companies have the expertise to win UK and worldwide orders, and Defence Minister Andrew Murrison has already admitted that there is nothing in Article 346 that would prevent the Westminster government placing contracts exempt from EU procurement rules in Scotland."
The spokesman also pointed out that the Scottish government's White Paper on independence set out how it would consider options for reinstating Rosyth as a supporting naval base, operating alongside its current industrial uses.
He added: "That would include the potential for the refitting work currently carried out at the site to continue, and for future work of that type which may be agreed with the Royal Navy and the Scottish government in support of an independent Scotland's naval fleet.
"We pledge to support shipbuilding and defence jobs in Scotland regardless of the outcome of the referendum - it is a shame that No campaign politicians seem unable to do likewise."
Scottish Engineering
Scottish Labour leader Johann Lamont claimed Babcock's concerns made it clear that independence would risk defence jobs.
She added: "Alex Salmond can't accuse the workers at Rosyth of bullying. He can't accuse Babcock of bluster. He can't accuse the trade unions of bluff.
"Not only is Alex Salmond willing to see thousands of financial services jobs be axed, he will now lose thousands of highly skilled defence jobs too. It seems there is no price too high, or too costly, for Alex Salmond to pay for his constitutional obsession."
Meanwhile, industry group Scottish Engineering has said independence "would not be in the interests" of the sector.
Launching a study based on responses from about a third of its membership, chief executive Bryan Buchan said: "The majority of those responding indicated that, in their opinion, independence would not be in the interests of the manufacturing engineering industry in Scotland.
"Significant minorities said that they sought further clarity, or that the question was solely a matter for politicians and the electorate.
"Very few members expressed outright support for independence."
And in a speech at Glasgow University, the UK Business Secretary Vince Cable claimed large financial institutions could be forced to "decamp" from an independent Scotland.
Mr Cable said that without a formal currency union - which has been ruled out by all three main UK parties - Scotland would not be able to provide the lender of last resort facilities that these companies have in the UK with the Bank of England.
Responding to Mr Cable, a spokesman for Scotland's Finance Secretary John Swinney said: "Vince Cable has already been caught red-handed scaremongering on bank jobs, making assertions about RBS when - embarrassingly - he hadn't even bothered to ask RBS themselves.
"His claims that Scotland has a huge banking sector compared to the size of our economy have previously been shown to be wrong - in reality the size of the Scottish financial sector is no bigger and therefore no riskier as a percentage of the economy than it is of the UK."