Housing pick-up helps Miller Group profit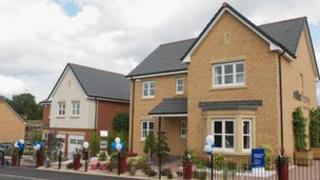 Edinburgh-based housing firm, Miller Group, has reported a 57% increase in pre-tax profits on the back of an "improving" market.
The company made £10.4m in 2013 - up from £6.6m in 2012.
Miller said its home division saw a "significant improvement" in the second half of the year with private reservations up 23%.
The company said the importance of house building to economic growth had been recognised by politicians.
It said the market had seen "significant improvement" assisted by the introduction of the Help to Buy scheme and the increasing availability of higher loan-to-value mortgages.
However, it warned the "need for further reform of planning processes in order to increase historically low levels of new starts remains a hotly contested issue".
The group's annual report revealed its average selling price rose 6.5% to £181,000 and it predicted further rises.
It said it had stepped up its land-buying significantly with £92m committed in 2013 compared with £56m in 2012.
The group's construction division reported a £4.6m loss which it said reflected "losses on a limited number of contracts that had been procured competitively on the basis of price".
Miller said it no longer tendered for projects on this basis.
The company operates in Scotland, the north of England, the Midlands and the south of England.
CBE chief executive Keith Miller said: "All our businesses are now well positioned to take full advantage of improving market conditions."