Andy Murray praises Scotland as he readies hotel launch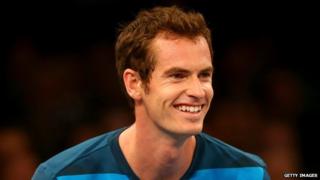 Andy Murray has spoken of his love for Scotland ahead of the opening of his Dunblane hotel.
The Wimbledon champion said he wanted the luxury hotel to become a "fixture" in Scottish tourism.
A message from Murray was relayed to hundreds of delegates at a conference in Edinburgh marking this year's Scottish Tourism Week.
The event aims to try to promote Scotland's tourist attractions across the globe.
Murray is preparing to launch the five-star Cromlix House Hotel in April, close to his home town of Dunblane.
The luxury country hotel was the venue for his brother Jamie's wedding to Alejandra Gutierrez in 2010.
Murray is currently in the US competing in the BNP Paribas Open in California.
The British number one said: "2014 will be a big year - not only will I defend my Wimbledon title, I have joined your industry and now champion your message, that tourism is everyone's business, even tennis players!
"2012 and 2013 were amazing years for me, winning gold at Wimbledon and then the slams in the US and at Wimbledon.
"But as an athlete, to stay at the top to be able to compete with the best, I know I can't sit back and there is always more to be done and I am very aware that you, the professionals in tourism, apply the same approach."
Dunblane community
Murray said opening his hotel to the public would make it "a fixture" of the tourism industry in Scotland.
He added: "Am I mad, I hear you say? No, just excited! My family are too, the hotel holds some special memories for us and the Dunblane community.
"I love Scotland, especially the people, the great food, the countryside and this new venture gives me the chance to do my bit to show off a bit of Scotland to the world."
The conference, organised by the Scottish Tourism Alliance (STA), aims to explore the issues facing tourism in Scotland and highlight opportunities for the sector.
STA chairman Stephen Leckie said: "Scotland really does have it all, including a thriving tourism industry of which we can all be proud.
"We must now work together to join all the pieces of our wonderful jigsaw together and build a lasting legacy for the Scottish tourism industry."