Scottish salmon exports to US hit £200m mark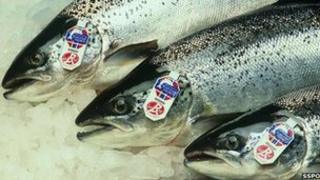 The value of salmon exports to America has seen a four fold increase in five years reaching £200m last year.
The Scottish Salmon Producers' Organisation (SSPO) described the figures as a "major breakthrough".
Salmon is Scotland's largest food export and the global retail value of Scots farmed salmon is more than £1bn.
A new plan for the food and drink industry is due to come into force next month to help achieve ambitious export targets.
Food and drink is Scotland's fastest growing export sector with overseas sales worth £5.3bn to the economy.
By 2017, the industry body Scotland Food and Drink hopes exports will reach £7.1bn.
'Scratching the surface'
Early estimates suggested overall salmon exports reached £450m in 2013 - a sharp increase on the 2012 figure, although salmon prices then were lower.
The SSPO said there was still much potential for sales in the US.
SSPO chief executive, Scott Landsburgh, said: "We're really just scratching the surface and we can do a lot more but obviously we've got to grow sustainably so it's not a dash but we expect to grow consistently.
"The US has overtaken France and is now the industry's largest market and we're looking to other markets around the world. We now export to 65 countries around the world so we're spreading our reputation worldwide and it's growing year on year."
The new export plan involves deploying a team of global experts in seven highest priority markets - North America, France, Germany, the Middle East, China and Hong Kong, Japan and South East Asia.
The aim is to open up new opportunities to drive international sales for Scotland's food and drink firms.