Engineering firm Motherwell Bridge bought in £38m deal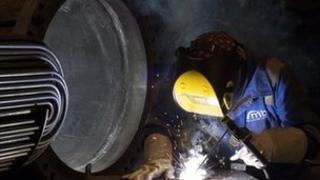 Engineering firm Motherwell Bridge has been bought by the industrial services group Cape plc for almost £38m.
The company said the deal would help it to grow by allowing it to take on larger projects in overseas markets.
The firm, which makes storage tanks and gasholders, employs about 300 people. It was acquired by the Kuwait Finance House from Bahrain in 2008.
Cape provides support services to the energy and mineral resources sectors.
Latest figures show Motherwell Bridge made a profit of nearly £5m in 2012 on revenues of £34.6m.
The current chief executive, Russell Ward, will be retained.
He described the £37.8m deal as "excellent".
He added: "While the business has achieved good growth over the past few years, Cape's significant resources and footprint will help accelerate and realise our growth plans in the UK and overseas.
"There is no doubt that having the backing of a leading industry player in the form of Cape will signal a major transformation of the company."