Increasing growth and confidence in Scottish economy, Bank of Scotland says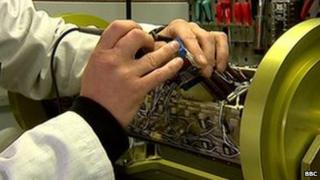 The number of people working for Scottish companies has risen at its fastest rate for 16 years, according to the Bank of Scotland.
The bank's survey showed the steepest rise in private employment in the report's history.
Recruitment in the housing and service industries were particularly strong.
The new data suggests the Scottish economy has reached its strongest level of peak output since 2008's pre-recession figures.
As a result of the increased demand, Scotland's output price inflation rate grew at the highest rate since 2011.
The seasonally adjusted Bank of Scotland Purchasing Managers' Index (PMI) scored 56.2 in February, mainly down to a strong increase in Scotland's manufacturing and service sectors.
The figure was down slightly from January's score of 57.2, which was attributed to slower growth in goods production compared with the opening month of the year.
'Strong growth'
Experts said that strong recruitment figures were helped by an improving housing sector. The positive employment figures continued across manufacturing and service industries.
The strong growth also meant that Scottish firms faced a backlog of work for the ninth month running.
Increased labour costs were also judged to have contributed to an increase in input prices during February, which contrasted with a reduction in cost inflation across the UK as a whole.
February's record figures were praised by Bank of Scotland's chief economist Donald McRae.
He said: "February's PMI showed the private sector of the Scottish economy continuing to demonstrate strong growth.
"PMI figures for the last five months suggests the Scottish economy entered spring of 2014 with sufficient growth momentum to have regained the peak level of output last achieved in mid 2008 before the recession."
'Rising confidence'
The impressive figures were also given more weight by a separate report from the Federation of Small Businesses (FSB) which showed that Scotland's small business confidence has climbed to match the UK average.
The FSB's Voice of Small Business Index shows Scottish small business confidence rising to its highest rate since 2010.
The Scottish confidence index for the first quarter of 2014 reached +36 points, up 15 points since the last measurement, and slightly higher than the UK average of +35.7 points.
Increased confidence helped more than half of all Scottish businesses go ahead with plans to expand over the next year - with 27.2% of these planning to increase capital investment.
Credit availability has also increased to these firms, with 12.9% of small businesses reporting that credit availability was good or very good, compared with only 6.6% who said the same a year ago.
In the next three months, 7% of Scottish small businesses plan to increase staff numbers.
However, 27% of Scottish businesses blamed a lack of access to skilled staff as a significant barrier to their growth.
'Improving conditions'
The FSB's Scottish policy convenor, Andy Willox, said: "It is great news that Scottish small businesses are now as bullish as their counterparts elsewhere in the UK.
"We need to turn this vigour into growth and jobs - and we must see this trend continue for the remainder of the year.
"As trading conditions improve, it is vital that businesses are ready to cope with rising demand.
"Firms with a full order book for the first time in years may need help with working capital and growing businesses will need to find the right skilled staff."