Prestwick Airport reveals loss before sale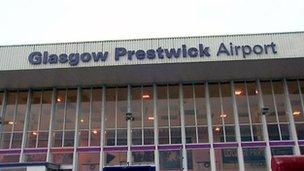 Prestwick Airport had a pre-tax loss of £9.77m in the final full year of its ownership by New Zealand company Infratil.
That was before a revaluation of fixed assets, reducing the airport's valuation by £10.9m.
It was a sharp worsening of its financial position, after a £2.3m pre-tax loss in the year to March 2012.
The company was sold for £1 to the Scottish government on 22 November last year.
With fixed assets valued at only £4m, it had net liabilities of £16m at the end of the financial year on 31 March 2013.
The company accounts say Prestwick Airport is only a going concern if its owner is willing to continue funding deficits.
They state that such an undertaking has been made by Transport Scotland on behalf of Scottish ministers.
The Scottish government is seeking ways to turn around the airport's fortunes, seeking new airlines that could use it.
At present, Ryanair is the only operator flying scheduled flights in and out of Prestwick.
Related Internet Links
The BBC is not responsible for the content of external sites.