Baxters' takeovers bite into profits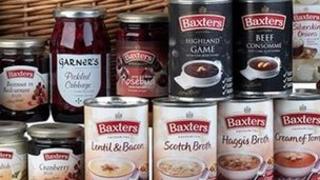 The Moray-based food group Baxters has said the acquisition of Fray Bentos and two other takeovers have eaten into full year profits.
The company made a pre-tax profit after exceptional items of £1.8m, compared with £4.6m the year before.
However, turnover to the year ending 1 June 2013 increased by 14% to £157m.
Baxters said the year had been transformational but said the integration of the Fray Bentos business had been "very difficult".
'Opportunistic acquisitions'
The group had also decided to act on "two opportunistic acquisitions".
In January, it took over Jensen's Choice Foods Pty in Australia and a month later acquired Manor Vinegar in Birmingham.
The company said the acquisitions were made possible by the "excellent" quality of debt through the government's Funding for Lending scheme.
The exceptional items dragged down the group's profits by about £6m, although the company said these would shrink considerably this year.
However, it warned of difficult trading conditions - particularly pressure on prices - with consumers expecting to pay less for food.
Overseas growth
Baxters saw strong growth overseas, with a 14% increase in Canadian operations and a 31% rise in its Australian business.
About a third of the company's turnover is delivered by overseas sales.
The number of employees at the group increased by almost 100 to just under 1,000.
The highest paid director, thought to be Audrey Baxter, received a £150,000 salary increase to £735,000.
Fray Bentos, which was launched in 1899, is best known for its range of canned meat pies, including steak and kidney and minced beef and onion.
Baxters produces a range of premium food products, including soups, savoury sauces, sour pickles, sweet sauces, preserves and salad accompaniments.