Scottish hotels 'outshine rest of the UK'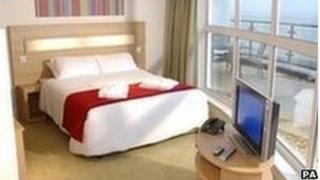 Scottish hotels "outshined" their competitors in the rest of the UK in November, according to a report.
The study by business advisers BDO suggested that hotels north of the border had higher occupancy and revenue levels than their counterparts.
The survey involved a number of hotels in the three to four star range across the UK.
The occupancy rate in Scottish hotels was 74.2%, compared to 72.5% in England and 71% in Wales.
Revenue from Scottish hotel rooms also continued to outstrip their UK counterparts, with an average figure of £52.73 - compared to £45.14 in regional UK, £43.91 in England and £39.85 in Wales.
Nearly all Scottish regions saw a strong rise in revenue rates, except Glasgow, which witnessed a 7.3% fall to £51.41.
Hotels in Aberdeen rose by 17.8% to £78.83, which gave the city the UK's highest revenue figure outside London.
Aberdeen hotels also had the highest occupancy rates in the country at 81.2%, followed by Glasgow at 81.1%, Edinburgh at 73.6% and Inverness at 62.1%.
'Outshine neighbours'
Alastair Rae, a partner in BDO, said: "The hospitality sector in Scotland continued to outperform the rest of the UK as the year drew to a close.
"Whilst occupancy overall was largely in line with the rest of the UK, it was in revenue that Scotland continues to outshine its neighbours.
"Aberdeen continues to operate in something of a bubble compared to the rest of the UK as the oil sector boosts hotel business."
Mr Rae also highlighted the strong growth in revenues from Inverness-based hotels, saying that events such as the Scotland Town conference and 80's Party concert had brought additional visitors to the city.
He concluded: "There are continued signs that the hospitality sector is improving in line with the increasing optimism in the wider economy.
"What is interesting to note is that improvements were experienced across all price ranges in the hospitality sector, with both occupancy and revenue rising, indicating growing confidence across the board and that consumers are happy to spend a bit more on the relatively higher cost hotels."