Scotland has too many law firms says BDO LLP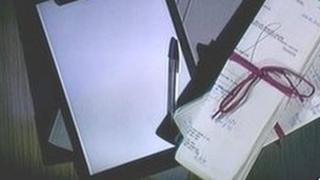 Scotland has too many lawyers and too many law firms chasing declining fee income, according to the accountants and business advisers BDO LLP.
A study of law firms' long-term performance found subdued profits and a fall in fees between 2008 and 2013.
The report also showed that company revenue was being diluted by increasing staff numbers in law firms.
Figures also showed that profits fell in Scotland's top law firms during 2013.
According to BDO LLP, in 2007/2008, Scotland's three biggest law firms had combined revenue of £178.5m.
By 2013 this had dropped by 30% to £125.5m. In 2013 total revenue per partner was down in seven law firms out of the top 15 in Scotland and had hardly grown in six of the rest.
Charles Barnett, of BDO LLP, said: "Everybody involved in the legal sector in Scotland is aware of just how difficult the recession has been for the profession. Well-established names have disappeared, others have been absorbed, and many more are still experiencing considerable financial difficulties six years after the recession began.
"Turnover is down and revenue per equity partner is down and yet there remains a reluctance to cut overall partner numbers.
"Whilst a double digit fall in revenue does not necessarily justify an equal percentage cut in lawyer numbers, too many firms are being overly cautious with their headcount. Perhaps more cuts are needed."
According to the study, smaller firms faced similar challenges.
The Law Society's Cost of Time survey in 2008 showed there were 219 firms sharing fee income of £262m. By 2012 there were 244 firms sharing lower fee incomes of £224m. Yet the number of equity partners over the period rose from 649 to 657.
Mr Barnett added: "Perhaps much of the gloom within the sector is related to raised expectations being dashed. Profit per partner is likely to be no lower than it was a decade ago in Scotland.
"But once individuals got used to the boom time income of the 2005 to 2008 period, it would seem they could never go back. But they may have to, as it is clear that period was the aberration rather than the somewhat abrupt collapse which has occurred subsequently."