John Menzies profits hit by drop in magazine sales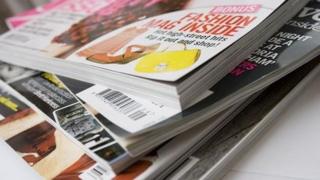 A sharp decline in sales of weekly celebrity magazines has hit profits at a major newsprint distributor.
John Menzies said newspaper distribution in the past year fared better because cover prices held up.
It plans a consolidation of its depots, and after cutting £5m from costs in the past year, it expects to make deeper cuts in the next two years.
The company saw a 9% drop in its magazines business, and more in the weekly category.
Celebrity publications were the biggest faller, and several titles closed, including AutoTrader, easyLiving and More.
John Menzies is split between its newsagent distribution division and aviation services, including ground handling of cargo.
Total revenues topped £2bn. And while pre-tax profits rose from £28m to £42m, the underlying profit figure was down slightly to £53m.
That is as the firm focuses on growth in its airports operations, acquiring three businesses last year, moving into the Latin American market and consolidating in Australia and New Zealand.
Aviation had turnover of £723m, with profits up 9% to £38m.
Iain Napier, chairman of John Menzies, commented: "During 2013 our aviation services business continued to demonstrate its growth credentials, improving profit by 11%.
"In distribution, we continue to make significant efficiency improvements and had a successful year renewing contracts with publishers, although overall profit was impacted by weak markets."