Cairn Energy chairman Sir Bill Gammell to step down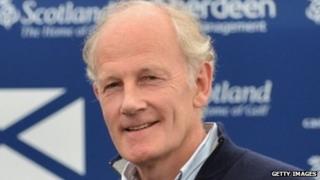 Cairn Energy founder Sir Bill Gammell is to step down as chairman after more than two decades on the board of the oil company.
He will leave the post in May to be replaced by Ian Tyler, former chief executive of Balfour Beatty.
Sir Bill was Cairn's chief executive from 1988, when it was listed on the London Stock Exchange, until he became chairman in 2011.
Mr Tyler has been on the board of the Edinburgh-based firm since last year.
The board said his abilities as a non-executive chairman and his extensive listed company experience in multiple countries made him ideal for the role.
Cairn energy chief executive Simon Thomson said: "Bill has been an exceptional leader and leaves a lasting legacy at Cairn. His role in the company's growth over 25 years has delivered significant value to shareholders.
"I am delighted that Ian Tyler has agreed to become our new chairman given his extensive listed company and non-executive experience."
'Capable hands'
Sir Bill, a former Scotland rugby international, said: "I am proud of Cairn's many achievements during my tenure as Founder, CEO, and subsequently chairman, and as a shareholder I look forward to further progress.
"After 25 years on the board, I am pleased to be leaving in the knowledge that the board and the company will remain in highly capable hands with Ian as chairman and with Simon at the helm as CEO."
Mr Tyler said: "This is an exciting and challenging time for Cairn and I look forward to working with Simon, his management team and the board as we continue to seek to create and deliver material value for shareholders."
Cairn Energy mainly explores for oil in northwest Africa, having shifted its focus away from Greenland where it spent $1.2bn without finding oil. The company made its name with big oil finds in India and also has oil fields off the coast of Britain.