New-built home registrations in Scotland rise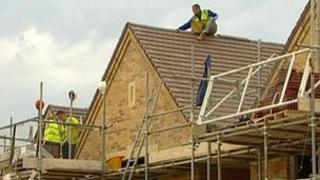 New-built home registrations in Scotland have risen by more than quarter on last year.
The National House Building Council has published it latest figures.
They showed rising demand was being reflected in the completions rise for November to January compared with the same period last winter.
Philip Hogg of Homes for Scotland said: "Builders have stepped up production in order to meet rising demand."
"However, if we are to fully meet growing need, it is imperative that focus now turns to the major supply-side barriers which continue to hamper growth and output."
He said this includes access to development finance for builders, land supply and skill shortages.
The housebuilding firm Barratt said it has had a boost to sales in Scotland in the past six months.
The company aims to open 21 new sites across Scotland in the next year, saying that would lead to more than 2,000 homes being built.
Regional director Douglas McLeod said the company is varying the type of home it is building, and that is paying off.
The homes market has been boosted by changes in the mortgage market, with lower required deposits lower and the government-backed Help to Buy scheme.