Rupert Soames quits Aggreko to become Serco chief executive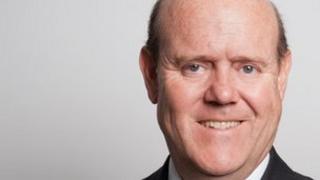 Rupert Soames is to leave engineering firm Aggreko to take up the chief executive role at Serco Group.
Mr Soames, who has been Aggreko's chief executive for 11 years, said he had "loved every minute" of his time with the Glasgow-based company.
He will step down after the firm's AGM in April.
He will be replaced in the short-term by the chief financial officer, Angus Cockburn. A search for a permanent replacement has already begun.
Mr Soames said: "I have loved every minute of my time with Aggreko.
"Our customers, the essential nature of our services and above all our people make it an outstanding company and I am proud to have played a part in its successful growth over the past 11 years.
"But there comes a time when all CEOs need to move on and now, with a new five-year strategy in place and an exceptionally strong executive team running the business, that time has come."
Aggreko chairman Ken Hanna said: "Rupert has been an excellent CEO for Aggreko and the group has achieved an enormous amount during his tenure.
"We will miss him but understand his desire to seek fresh challenges elsewhere."
Security and services firm Serco has been under fire in recent months after a government investigation found that it, and rival G4S, had wrongfully charged for work that was not carried out.
In the day's trading following the announcement of Mr Soames' appointment at Serco, the share price of the services company rose by 12%, to a market capital value of £2.3bn. Meanwhile, the share price of Aggreko fell by 4%.