Oil and gas industry faces 'biggest challenge in 50 years'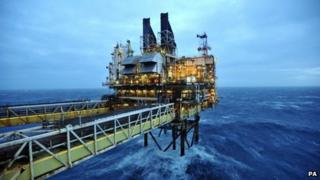 Britain's oil and gas industry has warned it faces its "biggest challenge in 50 years" due to the low levels of exploration.
Industry body Oil and Gas UK said only 15 wells were drilled last year.
That was despite strong levels of investment, reaching a record last year and sustained this year.
Exploration drilling was down from 44 wells six years ago, only sufficient to recover a fraction of the estimated oil and gas remaining offshore.
The annual activity survey by Oil and Gas UK found a rapid increase in production costs, up by 15% last year.
The average cost of extracting a barrel of oil was up by 27% in only a year, to reach £17.
The number of fields with cost per barrel above £30 has doubled in the last 12 months.
Rising costs were cited last week by Centrica, which has decided to focus future investments in Norway and North America, rather than UK waters.
With rising costs, production tax payments to the UK Treasury are expected to fall from £6.5bn during the 2012-13 financial year to £5bn in the current year.
However, there is a more positive picture from high levels of investment in known reserves.
That is estimated to reach £13bn during this year, slightly below the £14.4bn record set last year. Much of that was focused in four big fields.
'Main barriers'
Investment is scheduled to fall by nearly half within three years, according to the industry survey.
Following the rapid decline in oil and gas production from UK waters in recent years, the rate of fall slowed during 2013 - down by 8% to 1.43m barrels of oil per day, or its gas equivalent.
Output is expected to rise during this year, as 25 new fields come on stream.
Malcolm Webb, chief executive of Oil and Gas UK, said the results showed the contradictions at play between high investment but worrying trends in drilling, output and costs.
He said: "Even if currently planned wells proceed, the rate of drilling is still too low to recover even a fraction of the estimated six to nine billion barrels yet to be found.
"Britain's waters contain an abundance of oil and gas yet to be found and it is critical we find the means to turn the current state of exploration around. Rig availability and access to capital are the two main barriers noted by our members."
In addition to exploration wells, the industry last year drilled 120 development wells, a similar level to 2012.
Much of the activity was in existing offshore oil and gas reserves, known as brownfield sites. Of 26 such projects, 23 were linked to new tax breaks from the UK Treasury.
'Key sector'
Scottish Secretary Alistair Carmichael said: "The UK government is committed to doing all it can to ensure the oil and gas sector has all the support it needs.
"While capital investment remains at near record levels, this survey shows that this key sector faces real challenges around production and exploration.
"That is why we commissioned the Wood Review which was published earlier this week and that is why we are taking forward all its recommendations."
And Scottish Energy Minister Fergus Ewing said: "This demonstrates the range of opportunities and challenges facing the North Sea oil and gas industry at this time.
"We now have Sir Ian Wood's key recommendations on how to take the regulation of the industry forward. These should be implemented as soon as possible."