Clydesdale sets aside more funds for compensation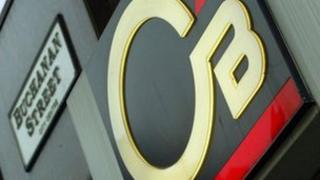 Clydesdale Bank's Australian owner is setting aside further funds to meet the costs of rising customer complaints and regulatory challenges in the UK.
National Australia Bank (NAB) has not said exactly how much that will cost.
It will not be clear until publication of its half year figures to the end of March.
Its UK operation - the Clydesdale Bank, including the Yorkshire Bank brand - saw improved cash earnings during the fourth quarter of 2013.
However, no figures were given in the update.
This was helped by lower costs, having shed staff. In April 2012, it announced plans to reduce staffing from 8,300 to 6,900, while shrinking its commercial lending activities.
There was also a lower charge between October and December last year for bad or doubtful debts at the Glasgow-based lender.
Compensating customers for mis-selling of financial products was "negligible" in the final three months of the year, according to NAB. That was after setting aside £152m for compensation up to September 2013.
'Uncertain factors'
However, the market update from the Melbourne parent bank stated "there remains a wide range of uncertain factors" to do with so-called "conduct" matters related to the Clydesdale's regulation.
"Regulators continue to take an active stance in our management claims, including for payment protection insurance and interest rate hedging products," it said.
"There has also been an increase in the level of complaints and settlements relating to some tailored business loans."
The Clydesdale's recovery plan including the transfer to the NAB parent of a troubled £5.6bn commercial property loan portfolio. NAB reported that is being run off, and between October and December, its value fell from £4bn to £3.6bn.
In its most recent full year results, up to last October, Clydesdale Bank made a profit of £127m, following a loss the previous year of £183m.
National Australia has sought a buyer for Clydesdale over recent years, but it has been unsuccessful. However, the pressure has returned at its home base.
With bank valuations improving and with Clydesdale focussed on less risky consumer and small business banking, that could make Scotland's third biggest lender a more attractive buying prospect.
The chief executive of Clydesdale and Yorkshire Banks, David Thorburn, said: "While encouraged by the progress we've made, I'm resolutely committed to delivering a renewed, sharper focus on the customer right across Clydesdale and Yorkshire Banks.
"As a result, there has been a step-up in the pace of change to deliver improved support for our customers. Underlining our commitment to dealing with past conduct issues and learning from our mistakes, we created a new, dedicated customer trust and confidence function in January.
"The team will drive a wide-ranging programme of change to embed the culture and processes that will ensure all our products and services deliver fairness for customers now and in the future."